Incredible! We have come a very long way but still feel "fairly" young!
For this special anniversary, we are happy and proud to share a little of bit our history and trajectory with you.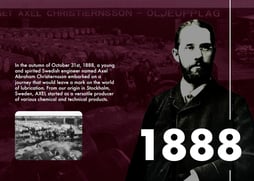 In the autumn of October 31st, 1888, a young and spirited Swedish engineer named Axel Abraham Christiernsson embarked on a journey that would leave a mark on the world of lubrication. From our origin in Stockholm, Sweden, AXEL started as a versatile producer of various chemical and technical products.
See more