Incredible! We have come a very long way but still feel "Fairly" young! For this special anniversary, we are happy and proud to share a little of bit our history and trajectory with you.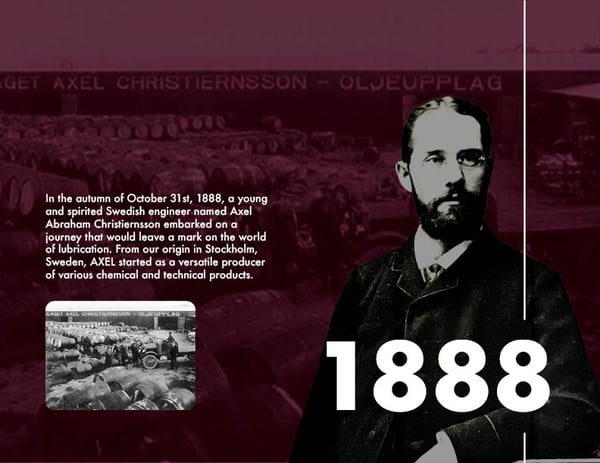 In the autumn of October 31st, 1888, a young and spirited Swedish engineer named Axel Abraham Christiernsson embarked on a journey that would leave a mark on the world of lubrication. From our origin in Stockholm, Sweden, AXEL
started as a versatile producer of various chemical and technical products.

However, it was in the 1920s that lubricating grease emerged as the cornerstone of AXEL's offerings.

By 1940, AXEL was producing 1500 tons of grease annually, showcasing a solid presence in the Swedish market,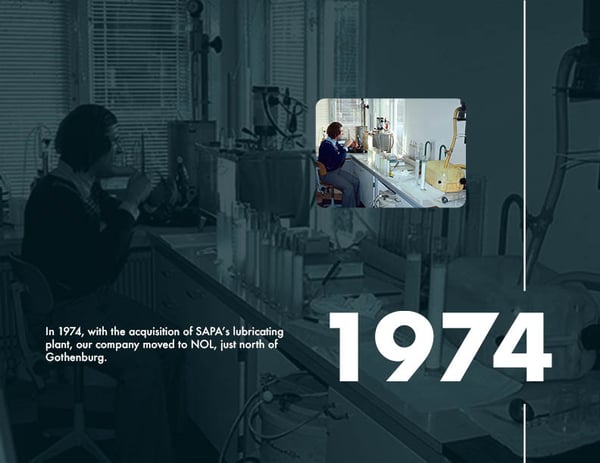 and in 1974, with the acquisition of SAPA's lubricating plant, our company moved to NOL, just north of Gothenburg.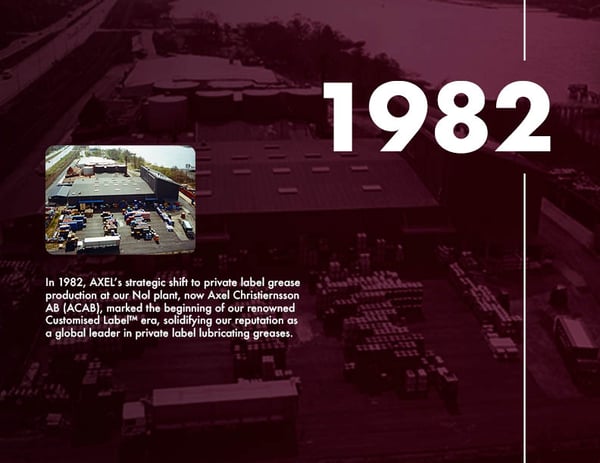 In 1982, AXEL's strategic shift to private label grease production at our Nol plant, now Axel Christiernsson AB (ACAB), marked the beginning of our renowned Customised Label™ era, solidifying our reputation as a global leader in private
label lubricating greases.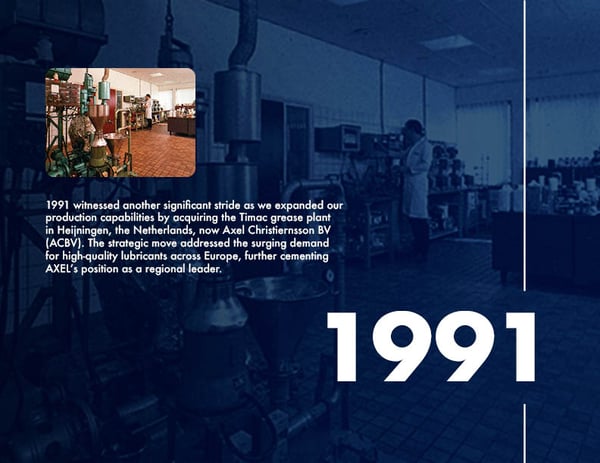 1991 witnessed another significant stride as we expanded our production capabilities by acquiring the Timac grease plant in Heijningen, the Netherlands, now Axel Christiernsson BV (ACBV). The strategic move addressed the surging demand for high-quality lubricants across Europe, further cementing AXEL's position as a regional leader.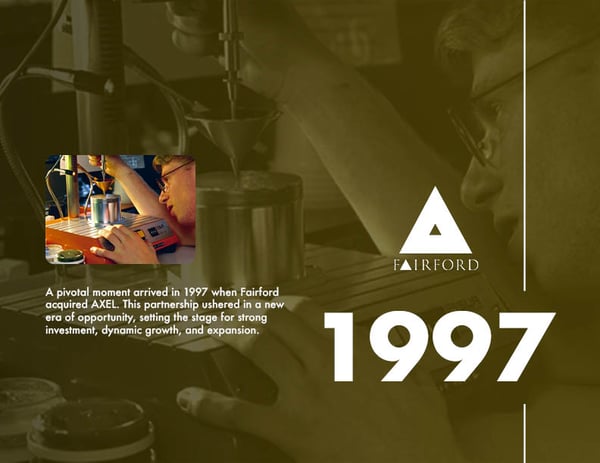 A pivotal moment arrived in 1997 when Fairford acquired AXEL. This partnership ushered in a new era of opportunity, setting the stage for strong investment, dynamic growth, and expansion.
In 2006, AXEL took another leap forward by acquiring Christol Grease SAS in France. This strategic move gave us a strong foothold in the French market and added a specialized production unit for food-grade lubricants.
Today, AXEL France SAS (AFr) is completing a significant investment initiative with almost doubled Foor Grade capacity, certified according to ISO 21469, and expanding the warehouse facility by over 1500m 2 .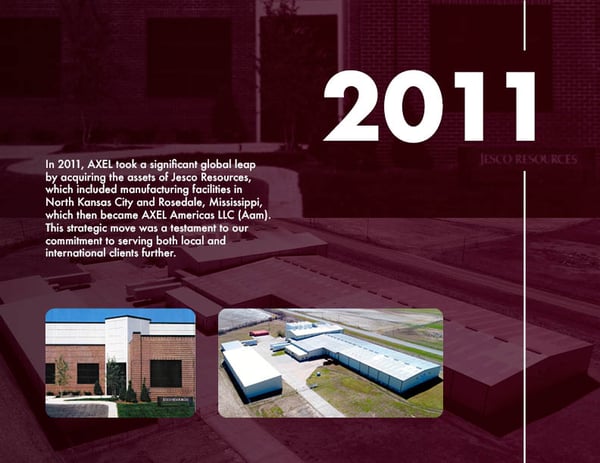 In 2011, AXEL took a significant global leap by acquiring the assets of Jesco Resources, which included manufacturing facilities in North Kansas City and Rosedale, Mississippi, which then became AXEL Americas LLC (Aam). This strategic
move was a testament to our commitment to serving both local and international clients further.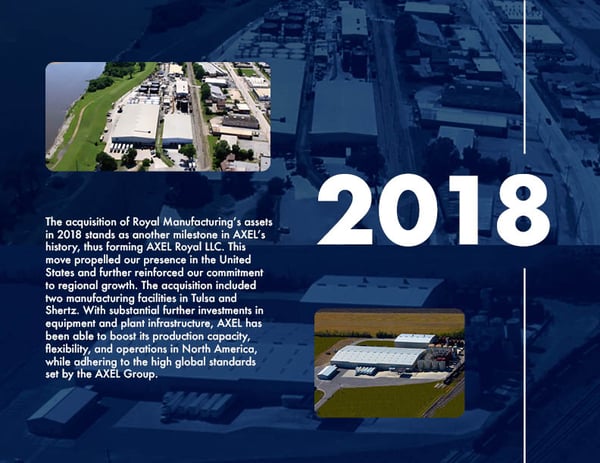 The acquisition of Royal Manufacturing's assets in 2018 stands as another milestone in AXEL's history, thus forming AXEL Royal LLC. This move propelled our presence in the United States and further reinforced our commitment to regional growth. The acquisition included two manufacturing facilities in Tulsa and Shertz. With substantial further investments in equipment and plant infrastructure, AXEL has been able to boost its production capacity, flexibility, and operations in North
America, while adhering to the high global standards set by the AXEL Group.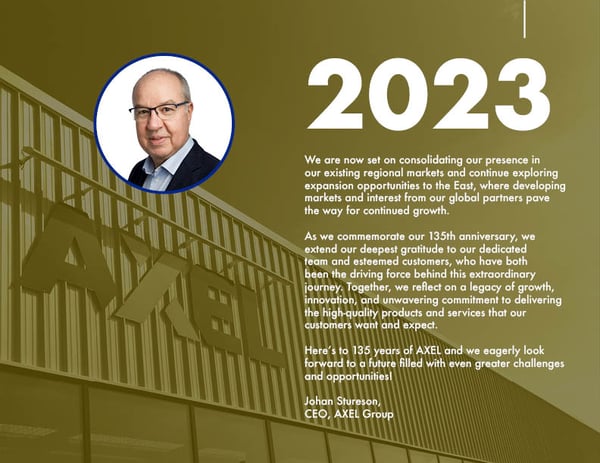 We are now set on consolidating our presence in our existing regional markets and continue exploring expansion opportunities to the East, where developing markets and interest from our global partners pave the way for continued growth.
As we commemorate our 135th anniversary, we extend our deepest gratitude to our dedicated team and esteemed customers, who have both been the driving force behind this extraordinary journey. Together, we reflect on a legacy of growth, innovation, and unwavering commitment to delivering the high-quality products and services that our customers want and expect. Here's to 135 years of AXEL and we eagerly look forward to a future filled with even greater challenges and opportunities!

Johan Stureson,
CEO, AXEL Group