Hello, my name is Eric van der Horst. I recently started as General Manager at AXEL Christiernsson in the Netherlands. I have had different leadership positions in several international companies including plastic composites manufacturer Voestalpine Polynorm, Polytec (both Austrian), Drum manufacturer Greif (US) and plastic packaging manufacturer Precise Technology (US- later sold to Rexam -UK). I started my career at Manuli (rubber hose assemblies for automotive) after military duty and studying mechanical engineering. I have worked in the Netherlands, Germany and Spain and have extensive experience in the automotive supplier sector.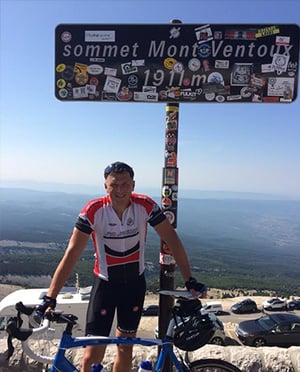 "Think local, bike global"
My aim is to further develop the AXEL team towards Operational Excellence and to become one of the best partners for our customers.
I live in the beautiful town of Breda in southern Netherlands, together with my lovely wife Monique and my daughter Jip and 2 sons Tibbe and Seb. You can find me on my racing or mountain bike when I am not working. "Think local, bike global" is my motto. During holidays I am always on my bike, camping in the mountains or exploring the western states of USA doing what we enjoy most with my family.