AXEL's Lithium Complex Made with Love…for the Planet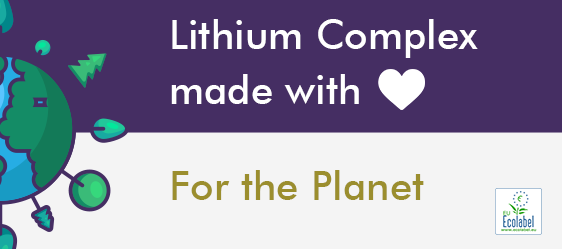 The earlier success of our Calcium soap thickened products triggered ambitious plans at AXEL to provide biodegradable, non-toxic, highly renewable raw material containing Lithium Complex products for versatile applications.
We are proud to announce the launch of a new cruiser in our bio portfolio fleet:
AXELLENCE 752 EPEF: An Environmentally Acceptable Lubricant with EU Ecolabel approval for accidental and partial loss applications. The first Lithium Complex grease to have attained this certification!
The new product contains carefully selected biodegradable base oils and low environmentally impacting additives. The composition contains over 80% readily biodegradable substances and more than 75% renewable carbon.
The grease has a wide temperature range of operation from -40°C to +140°C with an excellent performance profile that meets and even exceeds the mineral oil-based competitors.
Using the EAL Lithium Complex is not only beneficial for the obvious target, where loss into nature is highly probable but its use also helps to reduce the environmental footprint in general, involving every aspect of the life-cycle. This means, for example, that indoor industrial or under deck marine applications can be successfully targeted, minimising the environmental impact.
Another important achievement with the product is the low human toxicity potential that provides much safer operation to anyone who might come in contact with the lubricant or its degradation products.
This new product is the base of a whole product line where the consistency and a superior performance profile can be tailored for a wide range of applications. Stay tuned for more environmentally friendly news!