An environmentally-friendly solution for railway switches and more…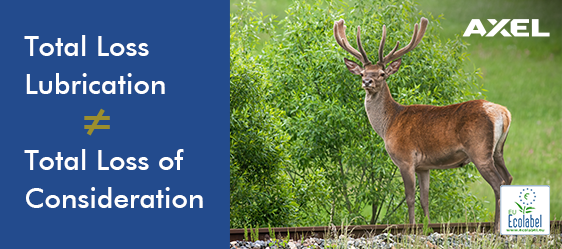 Rail switches are just one example of many applications referred to as total loss lubrication systems meaning that, due to their open design and the exposed conditions of operation, lubricant loss to the surrounding environment is not only highly likely but inevitable.
A primary consequence of such systems is that the lost lubricant eventually becomes a contaminant; adversely impacting ground soil, waterways, and the eco-systems that populate both. Therefore, when selecting a grease for such applications, there is a growing awareness of the importance to combine the needs of the application with the needs of the environment.
For this reason, AXEL has introduced Hycal 74FL EPEF: a modern, high-performance, and EU Ecolabel compliant EAL grease. Originally developed for rail switch applications, its properties are also suited for applications within the forestry, agricultural, and construction vehicles segments where a semi-fluid, environmentally sensitive product would be beneficial.
Hycal 74FL EPEF combines an Anhydrous Calcium thickener, a blend of specially selected biodegradable esters, and a balanced additive system. The grease is specifically formulated to resist the adverse effects of exposure to the elements, reduce the impact of operational loads and frictional wear on components, and ensure Ecolabel compliance for enhanced environmental protection.
Its semi-fluid consistency also enables good product pumpability in most modern centralised lubrication systems ensuring reliable component lubrication, even at lower ambient temperatures.
Key product features:
- Readily biodegradable
- Very good resistance to shock loads
- Excellent mobility in centralised lubrication systems across a wide range of ambient temperatures
Key product benefits:
- Reduced impact on the environment and application installation
- Enhanced protection under boundary conditions
- Easy application using pump systems